Kuching is the entry point for travelers wanting to explore the
Malaysian
 state of Sarawak in 
Borneo
. Boasted as one of the cleanest cities in Asia, Kuching has just the right amount of tourism. Hence, Kuching food is excellent, while prices are yet to be inflated by the tourist masses.
Borneo's isolation and unique tribal history have produced many delicious Kuching food that are difficult to find elsewhere. Clean waterways, rainforests, and an average of 247 rainy days a year. Therefore, Kuching is blessed with fresh, healthy food.
For Locals - famous historical food in Kuching
Kuching Food Not to Be Missed
Kuching food often lends its own unique twist to traditional Malay, Chinese, and even Indonesian food. Touted as the food capital of East Malaysia. Hence, Kuching food is the one place you should visit if you consider yourself a foodie. Being a big melting pot of many different cultures and communities. Therefore, Kuching has a wide variety of great food, and also food items that can only be found exclusively in Sarawak.
Sarawak laksa: The local Sarawak laksa is a creamy, spicy, local variation of Malaysia's ubiquitous soup-noodle bowl. Jumbo prawns, fresh lime, and coriander lend a unique flavor to the broth. Thus, it is thicker than that found in most noodle bowls heavy but delicious. The noodles are usually made from thin vermicelli. This is the most popular Kuching Food.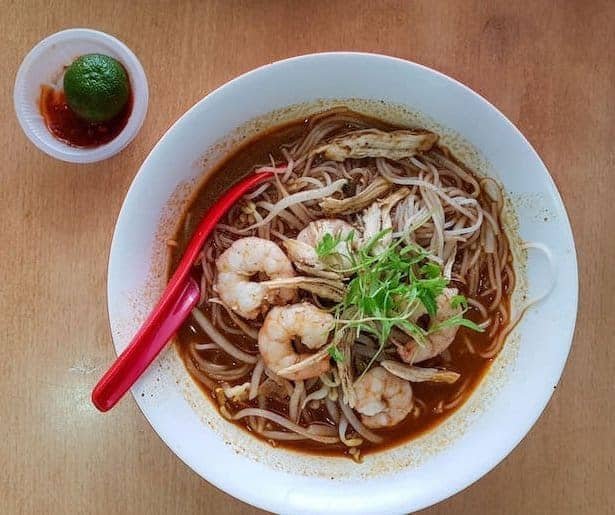 Tomato kueh teow: Signs around Kuching food advertise this local noodle dish in a myriad of different spellings. Wide kueh teow noodles are stir-fried with pork and vegetables in a special tomato soup. "Tomato mee" is a version of tomato kueh teow served with thin, deep-fried noodles.
Midin: If you try only one unique, local Kuching food, try midin. Pronounced "mee deen", midin is a green jungle fern that grows in Sarawak. Unlike other greens that get soft when cooked, midin remains crunchy giving it an enjoyable texture. The thin, curly shoots are a delicious and healthy alternative to noodles and rice. Hence, Midin is often stir-fried with garlic, ginger, or optionally shrimp paste and chili.
Kolo mee: Consisting of boiled egg noodles, kolo mee is the favorite noodle dish of kuching food. The broth is usually made of vinegar, pork or peanut oil, and is flavored with garlic or shallots. Thus, minced pork or beef is often added. Although you can request the dish without it. Subsequently, Char siew is thinly-sliced BBQ pork added in strips on top of the noodles.
Along with local foods, delicious Malaysian noodle dishes and Malaysian Indian food can be found everywhere!
Famous Kuching Food places.
Kuching is a foodie paradise, particularly the street food. Most dishes cost less than a pound. Begin at Chinatown's Seng Kee, 37 Carpenter Street. Where there's a choice of fishball soup, pork satay, Sarawak laksa. As well as, Chinese rice porridge with salted egg and preserved vegetables. The adventurous kueh chap, a feast of slow-braised pork ribs and intestines.
In nearby Padungan Road, there's always a queue for Noodle Descendents, 188 Padungan Road. They serve an awesome bowl of kolo mee. It is favourite local dish of minced pork and noodles. Served by a tiny lady who has been cooking here since 1957.
At night, the crowds head to Top Spot, Bukit Mata Street. This is one of the famous Kuching food place main dishes. An immense open-air food court on the roof of a car park. More than 500 diners sit at communal tables. Ordering from neon-lit seafood stalls displaying live crabs, prawns, razor clams, wriggling squid, grouper, pomfret and parrot fish.
Beside for being famous for food, Kuching also do have many other attractions.
the famous green road, kuching trishaw rickshaw kueh teow man