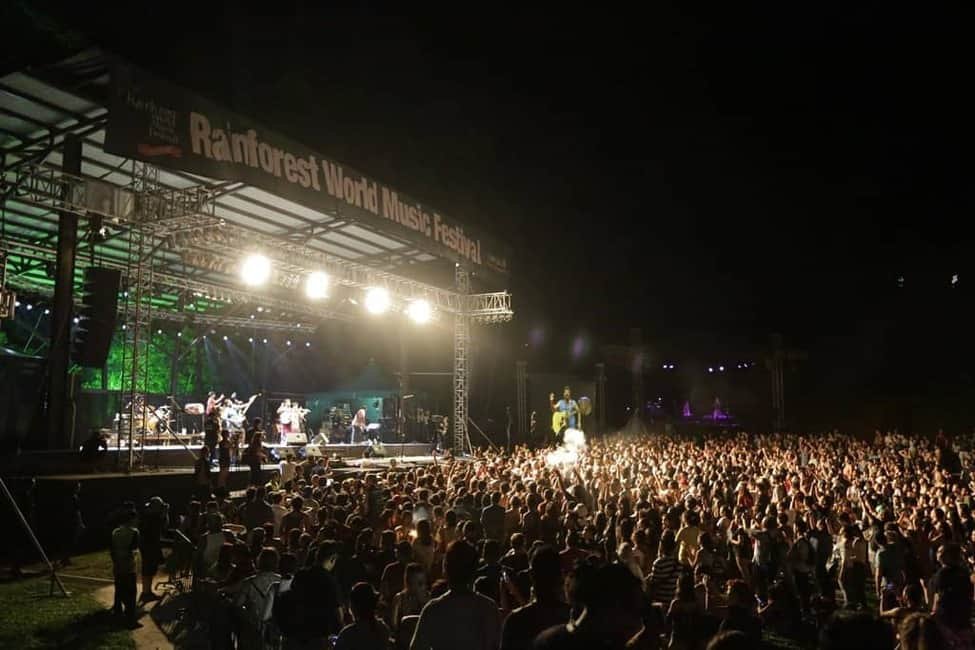 Rainforest World Music Festival Kuching is a unique festival that brings together on the same stage renowned world musicians from all continents. As well as, indigenous musicians from the interiors of the mythical island of Borneo.
Subsequently, its formula of afternoon informative workshops, followed by evening performances on the main stage has proven to be a hit with the audience, who come from near and far.
The Sarawak Cultural village and Rainforest World Music Festival Kuching site also sets up a variety of food and drink stalls. As well as, an arts and crafts area as well as a counter for festival memorabilia, Sarawak souvenirs and CDs by the performing artists. Therefore, all this contributing to a fun filled, wholesome festival experience. Thus, world Music plus a country fair atmosphere in the midst of lush greenery.
Rainforest World Music Festival Kuching, a not-to-be-missed occasion, guarantees a smashing time in the heart of the Borneo Jungle.
Sarawak's Iconic Music Festival – Awards & Achievements
Golden City Gate 2019 Five-star Award in the International Tourism Film and Multimedia category (RWMF2018 promotional video)
Asia-Pacific Excellence Award in the Film & Video Category (RWMF2018 promotional video)
2018 "Global Top 10" 8th place in the Transglobal World Music Charts.
2018 Malaysia Tourism Council Gold Awards – Gold Award for Special Tourism Event: The Rainforest World Music Festival
2010-2015, for 6 consecutive years, awarded 25 of the best International Festivals by Songlines, a UK based World Music Magazine
2012/2013 Brand Laureate Country Branding Award awarded by Asia Pacific Brands Foundation
ASEANTA Excellence Award 2009
PATA Gold Awards 2006
There are plenty of nearby attractions to extend your trip to Kuching.
Follow this link to read more about the music festival
Rainforest World Music Festival 2018
Rainforest World Music Festival 2017